product information
Line pumps
Truck-Mounted Line Pumps
FFH SYSTEM
Intelligent control system switches the direction of oil flows, allowing oil to freely flow without passing through any unnecessary valves.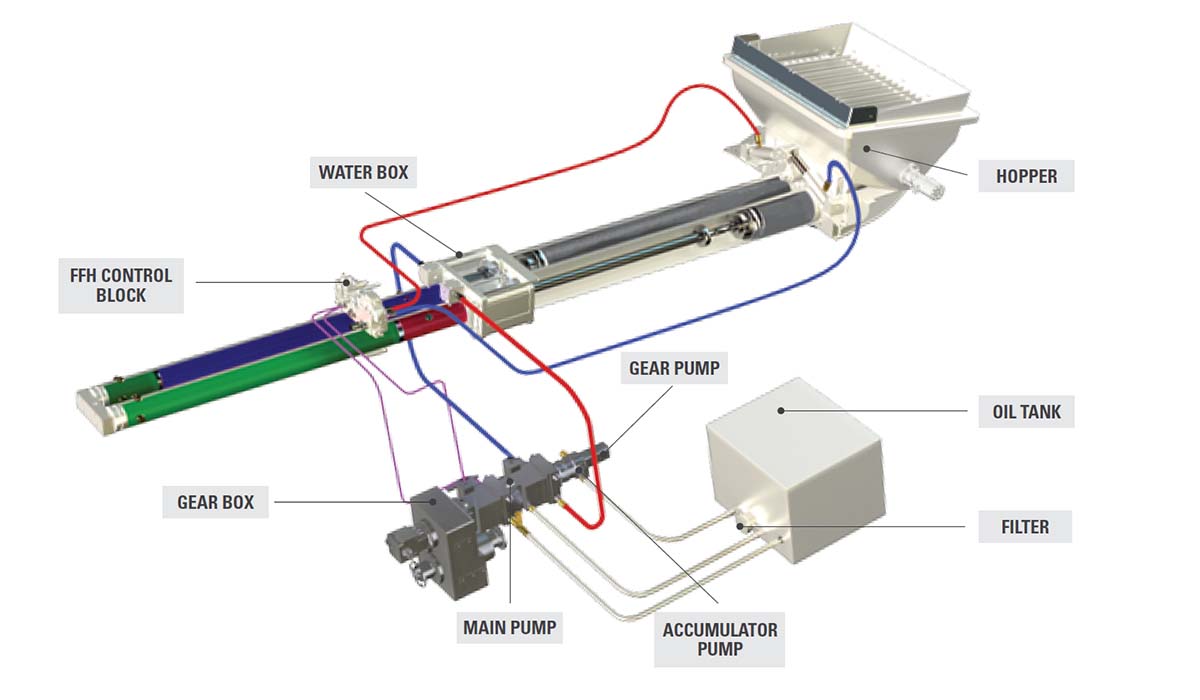 ■ The oil flows in a closed circuit from the Rexroth pump to the hydraulic cylinders and returns to the pump directly, which allows higher performance and efficiency.
■ Our intelligent control system switches the direction of the oil flow, allowing oil to flow freely.
■ Direct return of the oil to the pump prevents contamination of the hydraulic system
FEATURE
FEATURE & SUPPLY SCOPE
Inductive proximity switch with indicator
Single lip concrete piston
Hard-chromed concrete cylinders
Outrigger pilot check valves
Greasing port on boom link and pedestal
Working light on pedestal
Central manual greasing for hopper
Aluminum platform(non-skid)
Bubble gauge on both side
Flushing water pump
Water tank
Spray nozzle with 15m hose
Auto lubrication system for hopper
Tungsten carbide for wear ring and plate
Flap elbow(180-150mm) with cleaning port
Reducing pipe(150-125mm)
Agitator motors on both side hopper
Working light on hopper
PUMP CELL
Various pump cell option suitable for each job site condition.
 

Pump cell

Max.output

(m³/h)

Max.pressure

(bar)

Stroke

(mm)

Cylinder dia.

(mm)

Strokes

(per min)

Applicable models

 

1208

81

71

1200

200

36

21m

 

1409

90

70

1400

200

35

24-28m

 

1609

90

70

1600

200

25

30m

 

1611

110

85

1600

230

27

28-30m

 

2114

140

70

2100

230

26

32-43m

 

2116

160

85

2100

230

30

32-56m

 

2516

160

85

2500

230

25

63m